If you're looking for a high-quality Pilates Reformer then why not bring our pilates reformer to your home? Our Pilates Reformer made of Rubber wood which provides robustness and durability with a classic touch. Ideal for studios and home gyms. Incredibly adaptable and durable, exceptional versatility to accommodate a range of body heights, sizes and abilities. Superior European construction for maximum safety and durability.
Allowing you to focus on what truly matters- your workout.
It offers perfect stability and is very resistant, made of Rubber wood, covered with flat varnish, for robustness and protection. Its upholstery is made of synthetic leather on foam. It provides highest level of comfort especially for kneeling positions.
Instead of spending extravagant amounts on pilates studios, you may find that our classic pilates reformer is a worthwhile investment that can save you loads in the long term.

Then there is a Pilates reformer for sale that is perfect for you.
Includes
Rubber wood Frame
Sitting Box
Jump Board
Platform Extender
Shoulder Blocks (2)
Pulleys (2)
Rope (2)
Soft Double Loop Straps (2)
Foot Strap
Stoppers
6 Springs: 2 red (hard), 2 green (medium), 2 yellow (very light).
Wooden Dowel
Orthopedic and Antibacterial Upholstery
Includes the jump board and box.
Product Specifications
Height of the bed: 35 cm
Length: 228 cm
Width: 70 cm
Weight: 92kg
Shipping Dimensions: 253cm*77cm*47cm
Package weight: 129 kg
What Do Others Say About It?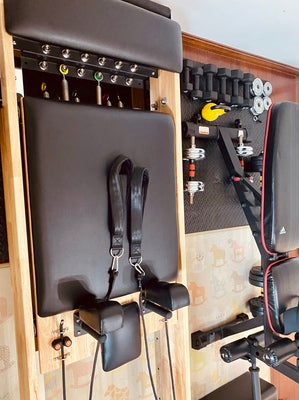 "This reformer is 100% studio quality and worth EVERY penny! I was actually stunned at the price compared to others. Don't think twice!"
-Jennifer R.
Shipping
MADE-TO-ORDER Arrives in 4 - 6 Weeks. We'll contact you when it's ready to ship.
Once item is shipped, an email will be sent out to the customer with tracking information. If you have no received this email, the product has not yet shipped. It may be still in production or on back order.