If you're looking for a high-quality foldable pilates reformer then why not bring our Foldable pilates reformer to your home? Our foldable pilates reformer made of High quality steel which provides robustness and durability with a classic touch. The Folding Home Reformer is designed for performance and convenience. If you're looking to broaden and enhance your Pilates routine, you'll love this Reformer!
It easily unfolds when you're ready to workout and folds up with rolling capabilities for convenient storage when you're done. You can enjoy an amazing and challenging Pilates workout without having to sacrifice space. This sleek, attractive unit is built durably to support your movement and give your a premier Pilates experience from the comfort of home. This reformer offer varied levels of resistance for your ideal intensity and the silent metal free connectors offer a quieter workout. You can also add the jump board or frame sitting box to this economic bundle for even more versatility!
Instead of spending extravagant amounts on pilates studios, you may find that our foldable pilates reformer is a worthwhile investment that can save you loads in the long term. Then there is a Pilates reformer for sale that is perfect for you.
FEATURES
Foldable, no longer subject to space constraints. It covers an area of only 0.03 cubic meters.
5-speed silent strong latex tape, very silent, does not disturb the people.
4 adjustable feet
Of natural leather
The 3-speed adjustable rope set is suitable for people of different heights.
Silent rubber-coated pulley
PRODUCT SPECIFICATIONS
Height: 35cm
Length: 210 cm
73lbs (33 kg)
Maximum weight load capacity 330 lbs (150 kg)
What Do Others Say About It?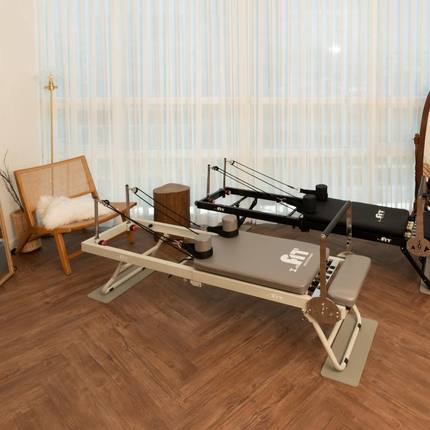 "Best Quality Price. I am very pleased with the Reformer features. I could not ask for better. I bougth this reformer through their website. Kudos!"
-Jess Almada.
SHIPPING
MADE-TO-ORDER Arrives in 4 - 5 Weeks. We'll contact you when it's ready to ship.
Once item is shipped, an email will be sent out to the customer with tracking information. If you have no received this email, the product has not yet shipped. It may be still in production or on back order.