The Premium Metal Pilates Reformer Bundle is all about creating the best Pilates experience. Smooth transitions and seamless flow. Easy adjustments and maximized comfort. Engineered and built for the rigors of commercial fitness. The result is an enhanced, effective session for clients, club members, rehabilitation patients and for you — the Pilates professional.
The Premium Metal Pilates Reformer Bundle also grows with your Pilates program. Start beautifully basic, then add a tower and accessories, all without requiring additional space. If space is limited, your reformer rolls, stacks and stores on end. Perfect for home use too.
This professional-use Pilates Reformer bundle is built with superior craftsmanship and can accommodate a range of program-expanding accessories.
Features
Rope System: Instant, accurate, revolutionary! Rope adjustments are easier than ever, enhancing the flow of your class.
Powder-coated, anodized aluminum, with warm maple accents.
Footbar locator on side of frame precisely locates the horizontal position of the footbar (great for instructors).
Built-in, maple standing platform, pre-configured to accept optional padded jumpboard.
Pad for standing platform
Ergonomic risers feel great for Pull-Ups, and remove easily to allow stacking of your Reformer without legs.
High quality springs ensure that users can consistently repeat movements. Five-spring resistance system allows up to 46 resistances.
Product Specifications
Height: 9″ (22.5cm) or 15″ (37.5cm) with legs
Length: 94″ (238cm)
Width: 25.5″ (65cm)
Footbar width: 31″ (79cm)
Carriage width: 23″ (58.4cm)
Carriage length: 33″ (83.8cm)
Weight: 308 lbs (140kg) or 396 lbs (180kg) with tower.
What Do Others Say About It?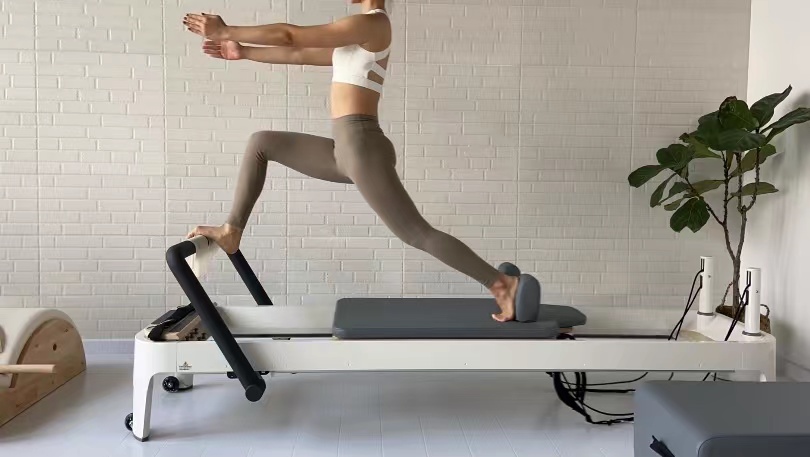 "Best reformer on the market. I've had a Elina reformer before. It is such a sturdy machine. Make sure that you pick the option To have it delivered to room of choice. It's very heavy and the box adds more height. They almost couldn't deliver it in my elevator. It comes mostly assembled, but the shoulder pads need to be installed."
- Venus Paradise
Assembly Instructions
This Pilates Equipment comes 80% assembled for easy set-up. Typically takes 30-40 minutes to assemble.
Shipping
MADE-TO-ORDER Arrives in 5 - 7 Weeks. We'll contact you when it's ready to ship.
Once item is shipped, an email will be sent out to the customer with tracking information. If you have no received this email, the product has not yet shipped. It may be still in production or on back order.